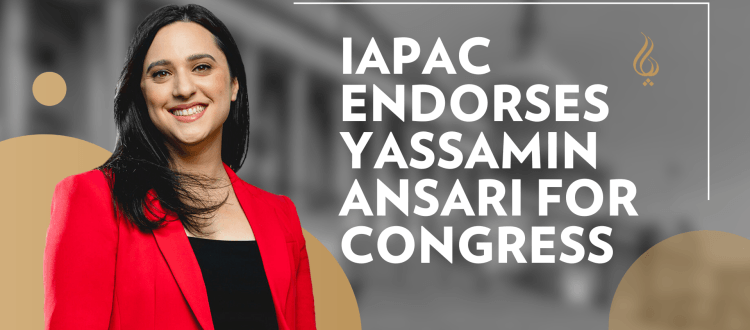 IAPAC is Proud to Endorse Yassamin Ansari for Congress 
Washington, D.C. — The Iranian American Political Action Committee (IAPAC), PAAIA's affiliated PAC, proudly announces its endorsement of Yassamin Ansari for Congress in Arizona's 3rd Congressional District. If elected, she will be the first Iranian American Democrat elected to Congress!
Yassamin Ansari is the Vice Mayor of Phoenix and the first Iranian American elected to office in Arizona, representing one of the most diverse districts in the fifth-largest and fastest growing city in the country.
Influenced by her civically engaged parents, Yassamin began organizing in high school on behalf of Obama for America. She then went on to earn her undergraduate degree in international relations with honors from Stanford University and her master's degree from the University of Cambridge. Yassamin began her career in 2014 as an advisor in the Executive Office of United Nations Secretary-General Ban Ki-moon, where she served on the climate team that helped deliver the historic Paris Climate Agreement. Later, she worked directly with the Office of California Governor Jerry Brown as deputy policy director for the Global Climate Action Summit, and as a senior policy advisor to UN Secretary-General Antonio Guterres.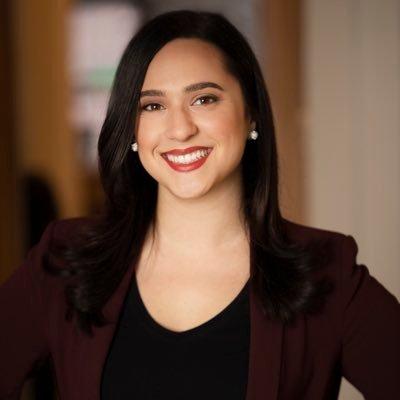 Currently serving as the youngest woman ever elected to Phoenix City Council, Yassamin has dedicated herself to fighting for justice on all fronts — from affordable housing and free tuition to reproductive rights and action on climate change. She has received many awards and accolades for her work including the Stanford Award of Excellence, the U.S. Department of State Critical Language Scholarship, the DNC Hope Fellowship, and Forbes 30 Under 30 in Law & Policy. She's spent her entire career standing up for both her Phoenix community and the Iranian American community.
Yassamin's dedication to public service doesn't end with her career. For years, she's been a strong advocate in encouraging other young Iranian Americans to become civically engaged. She previously served as the Vice Chair of Civic Engagement for PAAIA's Emerging Leaders Program, served as Co-Chair of PAAIA's Civic Engagement Forum in Washington, D.C., and founded the Ansari Fellowship Program, an initiative designed to encourage and empower young Iranian Americans to pursue careers in public service.
PAAIA had the opportunity to interview Yassamin about her campaign for Congress. Read excerpts from the interview below:
Why are you running for public office?
As the youngest woman ever elected to Phoenix City Council, I have already fought for reproductive rights, spearheaded Phoenix's first Climate Action Plan, and secured millions in free tuition for students. From my time serving as a climate advisor at the United Nations, to my work helping to deliver the historic Paris Climate Agreement and several global climate action summits, I've made a career of going head-to-head with corporate polluters, corrupt special interests, and tired, ineffective policies. In this moment, Arizona needs a leader who understands the urgency of the moment and gets things done. I am that leader.
I also understand that representation is about listening to the community and making sure you're surrounding yourself with people in the community so that their experiences and challenges are represented in the legislation I respond with. And I have earnestly done that while on the Phoenix City Council and will continue to do so when elected to Congress.
What are the most critical issues facing your district today?
As a Phoenix City Councilwoman and Vice Mayor, I already represent many of the Congressional District 3 residents. They are honest, hardworking, and deserve a level playing field. They know, firsthand, the damning effect of inaction and they don't have the luxury of waiting for incremental change.
In engaging with District 3 residents at their doors, through mobile office hours and community events, I've learned what is most important to them is that good jobs with livable wages are available so they can compete with the rise in living costs. Relatedly, the housing and homelessness crisis is top of mind for residents, and as a city leader, I have been at the forefront of solutions and will continue to be in Congress.
With gun violence in our schools and fentanyl ravaging our communities, I also hear residents' concerns in keeping our schools and neighborhoods safe. But the inflation crisis is also crushing families and small businesses, the climate crisis means clean air and water are at risk, and women's rights are being stripped away. Working families deserve a progressive fighter who can deliver more affordable housing, good jobs, Medicare for All, and clean air and water.
Tell us your views on immigration and how you will balance national security concerns with America's traditional values of welcoming immigrants and temporary visitors from abroad and safeguarding their dignity and rights.
As the daughter of immigrants, I firmly believe that the United States benefits from immigration. Overall, immigrants have strengthened our economy, culture, and American spirit. As a Phoenix City Councilwoman, I represent one of the most diverse districts in the state, a district in which many immigrant and refugee communities reside. I have always supported immigrant communities and will continue to do so as the next representative from Arizona's 3rd.
Arizona is also a border state from which many constituents voice concern for national security. In Congress, I will seek common ground in pursuit of fixing our broken immigration system. Should we be able to pass comprehensive immigration reform, then it must work for families, Dreamers, and small businesses, all while keeping our border secure.
As a member of Congress, what will be your foreign policy objectives towards Iran?
If elected, I may become the first-ever Iranian American Democrat elected to Congress – a responsibility that I will take immensely seriously. I intend to help lead the passage of the MAHSA Act, as well as additional policies that will promote human rights and democracy in Iran.
In my capacity as a Phoenix City Councilwoman and Vice Mayor, I commissioned a Woman, Life, Freedom mural in the heart of Downtown Phoenix, organized meetings between the Iranian American community and our federal delegation following the murder of Mahsa Amini, and leveraged my platform to urge Arizona Members of Congress and Senators to sign on to the MAHSA Act.
Also, as a member of Congress, I will support the Temporary Family Visitation Act (TFVA) which would create a separate non-immigrant visa category for family members of all U.S. citizens or permanent residents.
What role do you think Iranian Americans can play in your campaign and what do you expect from the community?
The Iranian American community can play a crucial role in the success of my campaign. We will make an earnest effort to reach out and engage with the Iranian American community. We are hoping they can donate, help us raise money, phone bank and knock on doors. They can also make a difference by helping me grow my Iranian American network and introducing me to those that want to get involved. We would also welcome any opportunity they can help raise awareness about my candidacy both inside and outside of the Iranian American community.
---
IAPAC is the registered bipartisan connected political action committee of the Public Affairs Alliance of Iranian Americans (PAAIA). IAPAC supports and encourages Iranian Americans to actively participate in the U.S. democratic process and run for public office. Learn more at iranianamericanpac.org.