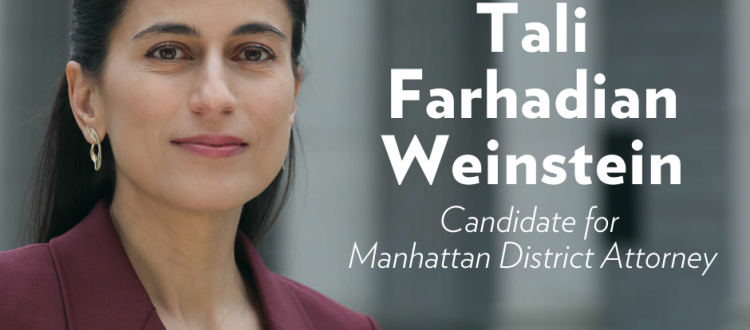 IAPAC Announces Endorsement of Tali Farhadian Weinstein for Manhattan District Attorney
Washington, DC – The Iranian American Political Action Committee (IAPAC), the connected PAC of the Public Affairs Alliance of Iranian Americans (PAAIA), today proudly announces its endorsement of Tali Farhadian Weinstein for Manhattan District Attorney.
Born in Iran, Tali and her family fled to the U.S. during the Iranian Revolution in 1979, ultimately landing in New York where Tali was raised. After earning degrees from Yale College, Oxford University where she was a Rhodes Scholar, and Yale Law School, Tali was a Law Clerk for Judge Merrick B. Garland at the U.S. Court of Appeals for the DC Circuit and for Justice Sandra Day O'Connor at the U.S. Supreme Court. Tali also worked at the U.S. Department of Justice under the Obama administration, first as Counsel to Attorney General Eric Holder, and then as a federal prosecutor. As an Assistant U.S. Attorney, Tali investigated and prosecuted cases ranging from gun violence and murders to public corruption, tax and other frauds, and national security matters. Most recently, Tali served as the General Counsel of the Brooklyn District Attorney's Office. In this role, Tali served as a close advisor to the District Attorney and was an important part of the leadership team charged with implementing the office's criminal justice reform agenda.
In addition to her extensive work and leadership as a prosecutor and a criminal justice reformer, Tali also has spent her time educating the next wave of leaders in law. She has taught immigration law and policy at Columbia Law School and is currently Adjunct Professor of Law and Adjunct Professor of Clinical Law at NYU Law School, where she teaches "Criminal Justice Reform and the District Attorney." Tali is a national expert on the transformation of local prosecution happening around the country today.
Besides IAPAC's endorsement, Tali has been endorsed by former U.S. Attorney General Eric Holder, former NAACP President and Civil Rights Leader Ben Jealous, Gun Reform Leader & Founder of Harlem Mothers S.A.V.E. Jackie Rowe-Adams, as well as U.S. Representatives Ritchie Torres (D-NY/15th), Nydia Velazquez (NY-7th), and Adriano Espaillat (NY-13th).
PAAIA had the opportunity to interview Tali about her campaign. She currently faces 8 candidates in her primary race, which will be held on June 22nd, 2021. The race marks the first time she will run for public office. If successful, she will be the first Iranian American elected as District Attorney in the state of New York, as well as the first woman and immigrant to be elected as Manhattan District Attorney. Read our interview with Tali below.
---
PAAIA: What inspired you to run for public office?
Tali Farhadian Weinstein: My journey as an immigrant – coming to the U.S. at four years old to escape antisemitism and violence in Iran and to start a new life – informs everything I do. When my mother, brother, and I arrived at J.F.K. airport, the first American we met was an Immigration and NaturalizationService officer. We had what were likely fake tourist visas in our hands, and he could have turned us away – setting me on an entirely different course in life. But that law enforcement officer made a different decision and used discretion and compassion to allow us to enter the country.
I share that experience with you because it has shaped my understanding of the power and responsibility of law enforcement. Not every crime should lead to punishment. Not every punishment should be meted out at the maximum. Law enforcement requires us to exercise our humanity and sense of justice, always mindful of the demands of safety, in individual cases. I have spent most of my career in public service, trying to live and work by these principles. I intend to approach the awesome power and responsibility of the district attorney in the same way.
I also believe prosecutors must do less to do more. The district attorney must lighten the heavy hand of the criminal justice system by foregoing prosecutions that send people into the system unnecessarily and unfairly, and that perpetuate racial injustice and poverty. Then, I will use our resources to pursue cases that legitimately promote public safety. We must do more to fight gun violence and gender-based violence, both of which have been greatly exacerbated by covid-19. This work – of managing our discretion in service of justice and safety – is the core of good, ethical, and effective prosecution.
PAAIA: Tell us a little about the office you are seeking and the district that you are running in.
Tali Farhadian Weinstein: I am running to be Manhattan District Attorney. The Office of the District Attorney is responsible for the prosecution of violations of New York State laws (while federal law violations committed in Manhattan are usually prosecuted by the U.S. Attorney for the Southern District of New York). The position is held by incumbent district attorney, Cy Vance, who is not seeking reelection. Notably, the title of Manhattan District Attorney has been held by only four occupants since 1942. If elected, I would be the first woman, and the first immigrant, elected to lead the Office.
PAAIA: What differentiates you from your opponents?
Tali Farhadian Weinstein: I believe my management experience in helping run the fourth largest DA's office in the country, including successfully implementing several effective reforms in that office, my experience across American legal institutions, and my balanced view of safety and fairness differentiate me from the others.
With regards to my leadership experience, I am proud to have directly managed multiple bureaus of the Brooklyn DA's office (including the Appeals Bureau, where we developed all of our legal positions), directed complex litigations, and developed and overseen office-wide policies. I also served as a close advisor to the District Attorney. Moreover, as Counsel to U.S. Attorney General Eric Holder, I helped design and implement policy on how prosecutors nationwide could use their discretion.
Secondly, several candidates in my race focus on what they will not prosecute. There are, however, several public safety issues, particularly gun violence and gender-based violence, that we must take seriously. Based on my years of prosecutorial experience, I understand how to handle these complex threats with sophistication and with a multifaceted approach that does not compromise fairness or safety.
PAAIA: What are some of the most critical issues facing your city and district today and how does your campaign plan on addressing those issues?
My top priorities include tackling gun violence, fighting gender-based violence, ensuring fairness in the legal system, protecting immigrants, and preventing hate crimes. In terms of addressing gun violence, I have created a 10 Point Gun-Violence specific plan that will be overseen by an appointed Gun Violence Coordinator who will work across divisions and bureaus directing and monitoring firearms-related investigations, prosecutions, and initiatives.
The points include:
Prioritizing gun trafficking investigations and prosecutions
Implementing a "ghost gun" initiative to prioritize enforcement of the new ghost gun laws
Accelerating gun prosecutions
Inaugurating a specialized Domestic Violence team
Developing a diversion program for young people facing gun possession charges
Initiating a Juvenile Prosecution Unit
Expanding Violence Interruption Programs
Providing direct support for communities impacted by gun violence
Enforcing New York's Red Flag Law
Instituting gun buyback programs
To combat gender-based violence, I have designed a new Gender-Based Violence Bureau. The current system tasked with addressing gender-based and sexual violence is notably understaffed and underprioritized, which only further serves to discourage the reporting of such crimes and increase distrust of law enforcement. As District Attorney, my first step in addressing this issue will be establishing The Bureau of Gender-Based Violence (BGBV). This bureau, which will encompass multiple units including the Sex Crimes and Domestic Violence unit, as well as the units that will handle human trafficking, elder abuse, stalking, and gender-based hate crimes, will center around a sustained, focused, and expert commitment to investigation, prosecution, and reduction of this violence. Central to this Bureau will be increased specialized education to improve the response to victims and advance the pursuit of justice and healing and actions to break down the pre-existing barriers to reporting.
With regard to criminal justice reform, I believe fairness in the justice system means a commitment to reducing incarceration through bail reform, community-based programming, and increased sensitivity to mental health and addiction problems. It also means robust pre-incarceration investigations, appropriate charges, the consideration of collateral consequences in charging and sentencing decisions, commitment to eliminating racial and other unacceptable disparities in charging and throughout, and fair plea bargaining.
Protecting immigrants necessitates a holistic approach throughout the entire DA's Office in order to build trust throughout the community and create a safe environment for all. With that said, I will be incorporating sensitivity to non-citizens into every area of the office's practice – from the way prosecutors interact with non-citizen victims of domestic violence and sex trafficking, to charging decisions that take into consideration all collateral consequences, including those related to citizenship status.
Hate crimes are intolerable and go beyond harm to a specific victim, creating an atmosphere of exclusion and terror in targeted communities. Knowing the sting of discrimination personally, I will work to ensure that the District Attorney's office will work both to prosecute and to prevent hate crimes through community outreach, increased education about diversity and inclusion, and services with a particular focus on reaching young people and the mentally ill – two groups who, tragically, commit a disproportionate number of these crimes.
You can learn more about Tali and donate to her campaign here.
---
May 3rd, 2021