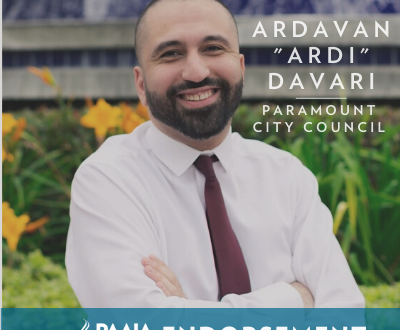 IAPAC Announces Endorsement of Ardavan "Ardi" Davari for Paramount City Council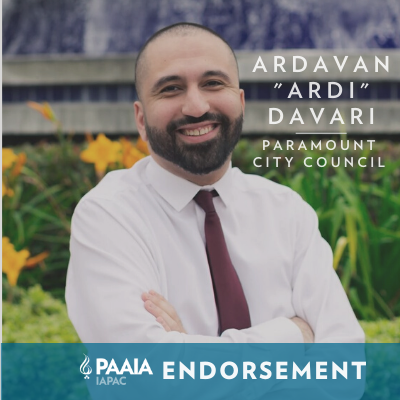 Washington, DC –  The Iranian American Political Action Committee (IAPAC), the connected PAC of the Public Affairs Alliance of Iranian Americans (PAAIA), today proudly announces its endorsement of Ardavan "Ardi" Davari for Paramount City Council.
Born in Tehran, Ardi immigrated to the U.S. with his family at a young age. He grew up in Culver City, California, later going on to the University of California at Irvine to earn a Bachelor of Science degree. Currently, Ardi is a homeowner in Paramount and employed as the Southwest Area Recruiter for Penske Truck Leasing in Santa Ana California. Ardi was recently elected to the board of the Paramount Democratic Club, a chartered organization of the Los Angeles County Democratic Party and currently serves as its treasurer. Ardi's campaign has been endorsed by current Paramount Councilmember Laurie Guillen, the Los Angeles League of Conservation Voters and the Los Angeles County Democratic Party.
PAAIA had the opportunity to interview Ardi about his campaign. The election, which will be held on March 3rd, 2020, marks the first time he will run for public office. If successful, he will be the first Iranian American elected to Paramount's City Council. Read the interview below:
PAAIA: What inspired you to run for public office?
Ardi Davari: Growing up in Culver City, CA allowed me to witness first-hand the transformation of what a good city council can do for a city. Culver City was not always a pleasant place to live but the city council had the vision to make it the vibrant city we see today. As a homeowner today, I am enthusiastic and committed to bringing that same vision and forward-thinking to Paramount. Also, participating in government has been a longtime goal of mine. Earning my Bachelor's degree from UC-Irvine gave me the foundation for truly understanding government at all levels. I have a strong understanding of how much of an impact people can make in the communities they live in. In addition, last month I was elected to the board of the Paramount Democratic Club, a chartered organization of the Los County Democratic Party and currently serve as the treasurer. The mission of the club is to engage, educate, stimulate and empower Democratic voters to make their voices heard and to be agents of change. I am honored to be elected to the board and this has further inspired me to seek a position of leadership as a member of the Paramount City Council.
PAAIA:  Tell us a little about the office you are seeking and the district that you are running in?
Ardi Davari: In the upcoming March 3, 2020, General Municipal Election, three council seats will be on the ballot for Paramount City Council – each having a 4-year term. This is the first even year General Municipal Election in the city of Paramount's history. Paramount was officially incorporated in 1957.
The most recent data for Paramount according to the 2018 United States Census estimates states that the city has a population of 54,387. The ethnic makeup of Paramount is majority Latino/Hispanic, making Latino voters the majority of all voters at 68.6%. The median household income is $49,064 and the percentage of persons in poverty is 20%.  Paramount is a Democratic City. 58% of all voters are Democrats, while only 10% are Republican. Currently, there are 12 registered Iranian American voters in Paramount.
PAAIA: What differentiates you from your opponents?
Ardi Davari: The time for needed change has arrived for the Paramount City Council and I understand the importance of educating the voters of Paramount in the first ever-even year General Municipal election on March 3, 2020. Since moving to Paramount, I have been attending City Council meetings on a regular basis and have addressed the members of the council during public comments. Too often are Paramount residents ignored when they raise their concerns to the Paramount City Council during public comments.
It is time for diversity and inclusion on the Paramount City Council and up until the Municipal Election of 2017, there were no Latino members of the council despite the fact that over 80% of the residents are Latino. I believe the voters of Paramount are ready to embrace change at City Hall and in my conversations with voters, it is clear Paramount residents want a diverse city council that is more innovative and approachable. In addition, electing councilmembers from diverse backgrounds brings different ideas to the table, preventing groupthink and cronyism, in addition to promoting inclusion. It is a cornerstone of my platform and appears in my literature: A New Look At Old Problems. I am campaigning as a true community voice for the hard-working residents of Paramount, the business community, employees working in Paramount and city public employees.
PAAIA: What role do you think Iranian Americans can play in your campaign and what do you expect from the community?
Ardi Davari: Currently, so few Iranian Americans hold elected office at any level in Los Angeles County and the State of California. The importance of informing Iranian Americans that I am running for public office will have an enormous impact on my being elected to Paramount City Council. Admittedly, running for this office can feel overwhelming and I know I am changing the narrative regarding our community's involvement in U.S public life. With the support of the Iranian American community, I can be another example of our political potential and show that Iranian Americans are leading by example at all levels of government. Fortunately, an increasing number of Iranian Americans are disrupting the narratives of passivity regarding our community's political potential, and are leading by example in various parts of U.S politics and government by making concrete, incremental changes. I believe it is crucial that Iranian Americans get involved in their communities, roll up their sleeves and take action to be agents of change in public service. The values of our community are not very different from those of other ethnic groups in Los Angeles County, which is why I am so honored to receive support from the Latino community of my region and other ethnic groups and organizations that have inclusive values.
You can donate to Ardi's campaign here.
---
February 6, 2020