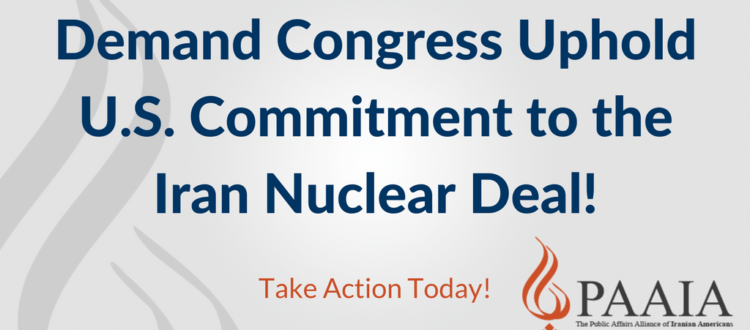 Help PAAIA Protect the Iran Nuclear Deal!
Washington, DC – On October 15, 2017, the Trump Administration is scheduled to re-certify whether or not Iran has been in compliance with the Iran Nuclear Deal to Congress.
President Trump has signaled strong disapproval of the Joint Comprehensive Plan of Action (JCPOA) and has pledged to dismantle it. As part of the the Iran Nuclear Agreement Review Act of 2015, the administration must certify to Congress every 90 days that Iran is complying with its obligations under the agreement. Failure to re-certify gives Congress the option to snap back U.S. sanctions and end U.S. commitment under the deal.
The Iran Nuclear Deal remains a verifiable success, setting the example of what diplomacy can do. A bipartisan group of national security leaders and a number of Members of Congress, including those who originally opposed the deal, have urged the administration to continue implementing the deal.
Failure to re-certify could have serious national security consequences for the United States. Send a letter to Congress urging them to demand President Trump re-certify the Iran Nuclear Deal today!
---