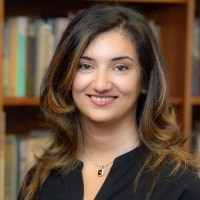 A Conversation with Dr. Narges Bajoghli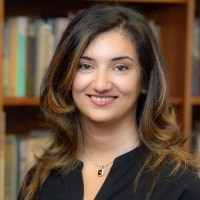 Washington, DC – PAAIA recently had the opportunity to talk to Dr. Narges Bajoghli, Assistant Professor of Middle East Studies at Johns Hopkins University's School of Advanced International Studies (SAIS). Dr.Bajoghli told us about her road to academia and her work on the Rethinking Iran Initiative as co-director of the project. PAAIA recently hosted Dr. Bajoghli at the launch of our Civic Engagement Forum earlier this month where she served on a panel with her colleagues from SAIS and moderated a book discussion with Washington Post reporter Jason Rezaian about his memoir Prisoner.
Dr. Bajoghli is an award-winning anthropologist, filmmaker, and writer whose academic research focuses on the intersections of media, power, and the military in the Middle East. Dr. Bajoghli has written a book on the topic, Iran Reframed: Anxieties of Power in the Islamic Republic, and is working on her second, which focuses on chemical warfare in the Middle East. In addition to her academic writing, she has also written for The New York Times Magazine, The Guardian, The Washington Post, Al Monitor, ​Middle East Research and Information Project (MERIP), The Huffington Post, and LobeLog. She has also appeared as a guest commentator on Iranian politics on DemocracyNow!, NPR, BBC WorldService, BBC NewsHour, and PBS NewsHour.  Outside of academia, Dr. Bajoghli is a thoughtful contributor to the Iranian American and other communities, co-founding Iranian Alliances Across Borders (IAAB) and working with NGOs in Iran and Latin America.
You can read the interview below.
PAAIA: How did you get involved in the academic study of media and power in Iran?
Dr. Bajoghli: Becoming an academic wasn't a straight road for me. After college, I got a fellowship from my undergraduate institution, Wellesley College, to study abroad at the University of Tehran. I went with the idea that I would improve my ability to write and read Persian and that I would have a chance to explore Iran on my own. The plan was to be there for one year and then come back to take the LSAT and go to law school. After the year was over, I came back to the States to take LSAT prep courses and get my applications together. But I knew I wasn't 100% in my desire to go to law school. The more I learned about what the practice of law would look like on a day-to-day basis, the more I realized it wasn't the right path for me. It might be cliché at this point to say, but 9/11 happened when I was a sophomore in college, and the ensuing wars and political decisions had captured my intellectual curiosities. I wanted to learn more about the history, societies, and cultures of the Middle East. I spent my college years studying abroad throughout the region, taking all the courses I could, and reading everything I could find about Iran and the Middle East more broadly.
Once I put away the thought of what I "should" do with my life, I realized that I wanted to have the time to delve deeply into a set of questions, such as what the exact processes were that drove my parents out of Iran, and to grapple with the messiness that is human society and history. Because I was interested in political questions, I
thought I would pursue a PhD in political science. After taking a few political science classes at the University of Chicago, I quickly realized that the discipline of anthropology offered a long-term participant-observation methodology that opened up a window to understanding the complexities of the human experience in a country like Iran, which is what I was ultimately interested in.
I had studied the role of the women's press during the Khatami era, and I had also spent long periods of time studying and working with student activists in Iran. Yet, it wasn't until I discovered the work of anthropologists who problematized the concept of power in all its complexity that I began to appreciate the need to study this concept thoroughly in order to understand what the communities we care about fight against.
PAAIA: What motivated you to start Iranian Alliances Across Borders?
Dr. Bajoghli: As I mentioned before, 9/11 happened when I was a sophomore in college. In my junior year, I was supposed to study abroad at the American University of Beirut, but a few weeks before my departure, the State Department issued a travel warning and my college refused to send me to Lebanon, despite my protests. So, I ended up at the University of London's School of Oriental and Asian Studies (SOAS). It turned out to be one of the most exciting academic environments I would experience.
The atmosphere in the 2002-2003 academic year in the U.S. was suffocating in many ways. At SOAS in London, the atmosphere was very different. Students were encouraged to question power and the prevailing narrative that led to the Iraq war. And, the student leaders who were at the forefront of the discussions were oftentimes second-generation Brits. It was an atmosphere that was inspiring to me and Nikoo Paydar, a fellow Iranian American student from Tufts University who was also studying abroad. Through conversations in London, Nikoo and I realized that in the U.S., there wasn't a community and a voice yet for second-generation Iranian Americans. Instead, the community at the time was still self-identifying as one in exile. We decided we needed to help jumpstart a community, and the only way to do that was to take stock of the community at that point in time and to create a sense of future leadership for the community. Iranian Alliances Across Borders (IAAB), and eventually Camp Ayandeh, were born out of this effort.
Through IAAB, we created the first international conferences on the Iranian diaspora with the aim to generate conversation among academics, artists, writers, and organizers about the diaspora community and the issues it faced. Then we began to focus on high school and middle school students through our summer leadership camps, and on college students through our Student Summits.
PAAIA: What do you and your colleagues hope to achieve with the Rethinking Iran initiative? What was the inspiration behind this innovative program?
Dr. Bajoghli: Rethinking Iran is an initiative at Johns Hopkins University's School of Advanced International Studies (SAIS) under the leadership of Dean Vali Nasr and co-directed by Shamila Chaudhary (Senior Advisor to Dean Nasr and Foreign Policy Institute Fellow) and myself. We started the initiative in Winter 2018 with the aim to create a more complex conversation on Iran in the policy world. Rethinking Iran came from a belief that knowledge about and conversations on Iran in the policy world were often flat and had resulted in failed policies when it came to Iran.
How could we rethink Iran as a country of multiplicities, rather than one framed in such starkly black and white terms? What would it mean if we tried to understand the complexities of a society by not only talking about its political structure and the latest decrees of Ayatollah Khamenei but also if we tried to understand its art, its social movements, its diverse communities? Rethinking Iran is about creating events and conversations that allow the Washington, DC policy community to push at the borders of what has passed for "expert knowledge" on Iran.
As such, in the spring 2019 semester, we organized an art installation and fashion show with artist Hushidar Mortezaei, we hosted a panel with Iran experts on Trump's "maximum pressure" campaign, including Ali Vaez from International Crisis Group and Dina Esfandiary from Harvard Kennedy School's Belfer Center, and we held a lecture on the history of the Iranian Jewish community in 20th century Iran with author Lior Sternfeld.
We hope to continue enriching conversations through our future programming.
---
June 25th, 2019