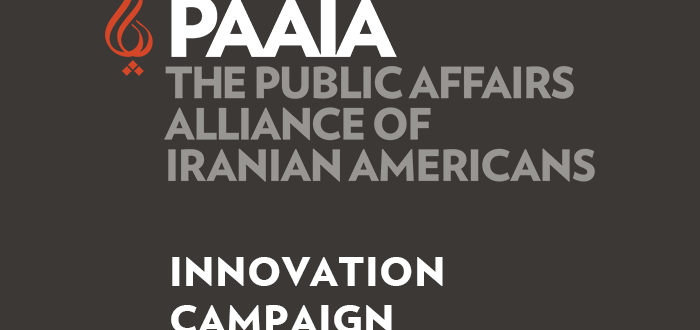 Public Affairs Alliance of Iranian Americans Premieres New Ads Highlighting the Value of Iranian American Innovation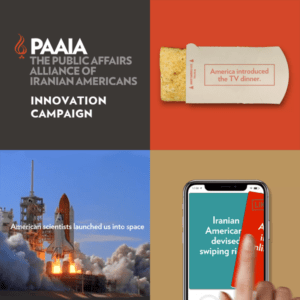 Washington, D.C. – The Public Affairs Alliance of Iranian Americans (PAAIA) launched a new social media campaign focused on the innovative power of the Iranian American community. The goal of the campaign is to foster greater understanding of who Iranian Americans are and highlight some of their extensive contributions to American life.
"Recent political events between the United States and Iran as well as charged rhetoric against immigrants, has created a negative stigma towards Iranian Americans leading to increased discrimination and hate crimes," said Leila Austin, Executive Director of PAAIA. "Our campaign aims to show the integral role Iranian Americans play in economies across the country through their entrepreneurial spirit, hard work, and appreciation for all the United States has to offer."
From eBay to Uber, Iranian Americans constantly invent or are involved in the creation of products and services that make life more livable. PAAIA's new campaign shines the spotlight on specific Iranian American innovations including Tinder, the Hot Pocket, and NASA missions to Mars. Iranian Americans turned idle thumbs into romance, put fast food in a pocket and helped turn space travel into planetary exploration. These are just some of the numerous contributions Iranian Americans have made to our country.
The Fiscal Policy Institute (FPI) conducted a study that found Iranian immigrants are among the top 5 immigrant groups with the highest rate of small business ownership, contributing substantially to the U.S. economy. Iranian Americans also play a big role in some of America's largest companies. The Iranian American Contributions Project has found that Iranian Americans have helped to found public companies that are collectively worth over $100 billion. According to a report by the Iranian Studies Group at MIT, Iranian Americans have participated in senior leadership positions of many major U.S. companies, including many Fortune 500 companies such as GE, Intel, Citigroup, Verizon, Motorola, Google, and AT&T.
There are an estimated 1 million Iranian Americans that are part of and add value to the fabric of America. Iranian Americans believe in the tenets of the U.S. Constitution and the Bill of Rights, and they are proud to contribute their skills and talents to the wonderful country they call home.
For more information on Iranian American Innovation visit: https://paaia.org/innovation or contact our Executive Director, Leila Austin at Leila@45.33.40.89.
---
ABOUT PAAIA: The Public Affairs Alliance of Iranian Americans (PAAIA) is a nonprofit, nonpartisan, nonsectarian organization that serves the interests of Iranian Americans and represents the community before U.S. policymakers and the American public at large.