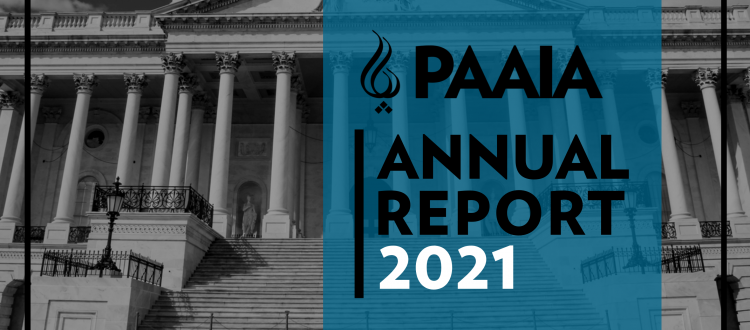 PAAIA Releases 2021 Annual Report
Washington, DC – The Public Affairs Alliance of Iranian Americans (PAAIA), a nonpartisan organization that represents the Iranian American community, today released the 2021 Annual Report highlighting the significant work the organization undertook in 2021 to advocate for and civically organize Iranian Americans. 
Throughout 2021, PAAIA supported and advocated for qualified Iranian Americans to be appointed to positions in the Biden Administration and federal boards and commissions, helped elect four Iranian Americans to public office across the country, and significantly advanced our mission to educate policy makers about the Iranian American community. In the face of a continuing global pandemic, economic turmoil, public mistrust, and increasing polarization, PAAIA has been more determined than ever to fulfill our central mission of empowering our community to be engaged in the latest policy developments that impact us and to come together as an informed and collaborative community in service to each other and society at large.
One of our most important accomplishments of 2021 was the planning and launch of our inaugural Civic Leadership Program (CLP), a significant new initiative and the largest investment in Iranian American youth leadership programs, with the goal of creating a more engaged and empowered Iranian American community. This passion project has been in the making for several years and is in line with our commitment to cultivate the next generation of Iranian American civic leaders. We have brought on Layla Sharaf to direct CLP.
PAAIA's advocacy work in 2021 was also committed to helping facilitate family reunions with our loved ones through supporting the Temporary Family Visitation Act (TFVA) legislation. In support of the Iranian people, we additionally made great strides pushing for policies that ensure the free flow of information to Iranian citizens and secure COVID-19 vaccines for our homeland.