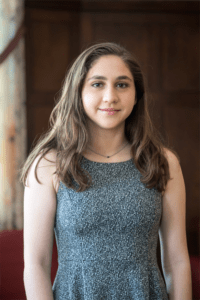 Emily Porter currently serves as PAAIA's Public Policy Research Associate and Civic Engagement Coordinator. She is in charge of researching policy relevant to the Iranian American community, writing briefs, reports, articles, action alerts, and letters to officials about such policy, and ensuring that PAAIA stays on top of issues that affect its members. She is also the head of PAAIA's Forum for Civic Engagement.
As a second generation Iranian-American and policy enthusiast, Emily is excited to commit her time and energy towards the Iranian-American community and shape the social and political narrative surrounding them.
Before joining PAAIA's team, Emily attended Grinnell College for her undergraduate degree, majoring in Political Science and concentrating in Policy Studies. She studied abroad in her Junior year of college in London, where she was a parliamentary intern for MP John McNally at his Westminster office. She was tasked with researching projects related to Brexit's impact on environmental policy in Scotland. She also interned with Chicago Alderman Ameya Pawar, working on zoning projects and constituent services.