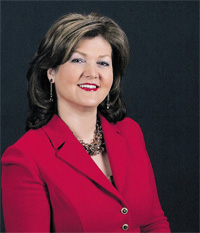 Forough B. Hosseini:
Born and raised in Iran, Forough came to United States to continue her education in 1977. She earned a Bachelors
degree in Computer Science from Embry Riddle Aeronautical University and an MBA from University of Central Florida. Forough is the Executive VP of Information Systems for ICI Homes, a company started by her and her husband in 1980. ICI currently develops and builds in Florida, Georgia, North Carolina and Tennessee. ICI Homes, built on bold vision, has consistently garnered a cadre of prestigious awards and far-reaching notoriety, not the least of which is its consistent ranking among the Top 100 Builders in the nation by Builder Magazine.
Forough has continually worked alongside her husband since ICI's inception. She has been responsible for designing and managing ICI's systems for the past 29 years.
Forough is a member and board member of many local and national organizations and participates in and contributes to numerous local, national and international charities and causes.
Forough was awarded the Prestigious 2009 Ellis Island Medals of Honor. The Ellis Island Medals of Honor pay tribute to the ancestry groups that comprise America's unique cultural mosaic. Later in 2009, Forough was presented with the Philanthropist of the Year award from PARSA Community Foundation at the organization's Annual Awards presentation held in San Francisco. The award was designed to honor an individual who is self-made, has achieved world-class success in his/her field, and has culminated that success in civic leadership by actively perpetuating the American Dream for others. According to PARSA CF Co-Founder and board member, Anousheh Ansari, "Forough is a shining example of the strong role that women play in philanthropy the world over."
Forough and her husband were the 2010 recipients of the Council on Aging "Glenn and Connie Ritchey Community Service Award" and Halifax Habitat for Humanity's first "Spirit of Hope" award in 2009. A Habitat home was built in their honor.
In Jan 2011, she was awarded the prestigious Herbert M. Davidson Award for Outstanding Community Service for her work with homeless children and her contributions to education. Forough was selected as one of the most "Influential Women in Business" in 2008 and was the recipient of the "Juneteenth Hometown Hero" among many other awards.
She started Forough B. Hosseini Family Foundation with the mission of helping local homeless and underprivileged children enrolled in public schools stay in school by providing after-school programs that involve tutoring, sports, activities and food. The program also follows the participating students through high-school and invites them to apply for scholarships to attend college. Forough was the 2008 recipient of the "Field of Dreams" Achievement Award from one of the schools her foundation sponsors.
Forough was appointed by Governor Bush and later reappointed by Governor Crist to the Daytona State College's Board of Trustees, serving as the Chair for two years. She currently serves on Central Florida Myregion's Board and has been part of its Executive Committee since its inception over a decade ago. Led by a group of public, private and civic leaders, myregion.org is advocating unprecedented cooperation among community leaders to create a coordinated, comprehensive plan for Central Florida's future ensuring Central Florida's place in the global economy and improving opportunities for generations to come.
Forough has served on the United Way's board and continues to serve on the United Way's Foundation Board and its Executive Committee for over a decade. She has served on numerous boards including the Museum of Arts and Sciences, American Heart Association, March of Dimes as well as Women in Your Life, Success by Six, among others.
Forough and her husband Mori, avid believers of giving back to a community that has offered them so much, contributed to the Hospitality Management building at Daytona State College. The building, Mori Hosseini College of Hospitality Management, is named in Mori's honor. Forough's family funded the Southeast Museum of Photography's main gallery, titled after her maiden name "The Babazadeh Gallery", housed in Mori Hosseini Center.
Other organizations and institutions that have benefited from the Hosseinis' generosity include Embry-Riddle Aeronautical University where the Sports Complex is named The ICI Center, Bethune Cookman University, the University of Central Florida, the University of Florida, Toys for Tots, Boys & Girls Club, Children's Advocacy Center, Children's Home Society, the United Way, the Symphony Society, the American Heart Association, the American Cancer Society, Lively Arts Center, Twin Towers Disaster Relief Fund, NPR, Operation Caring through Sharing among many others.
She is one of the founders and was the past President of the Iranian American Society of Daytona Beach and chairs the Arts and Culture Consortium partnering with local universities, colleges and museums. The consortium sponsors lectures, international art and cultural programs. The Hosseinis and their three daughters make their home in Ormond Beach, Florida.