The Public Affairs Alliance of Iranian Americans (PAAIA)
---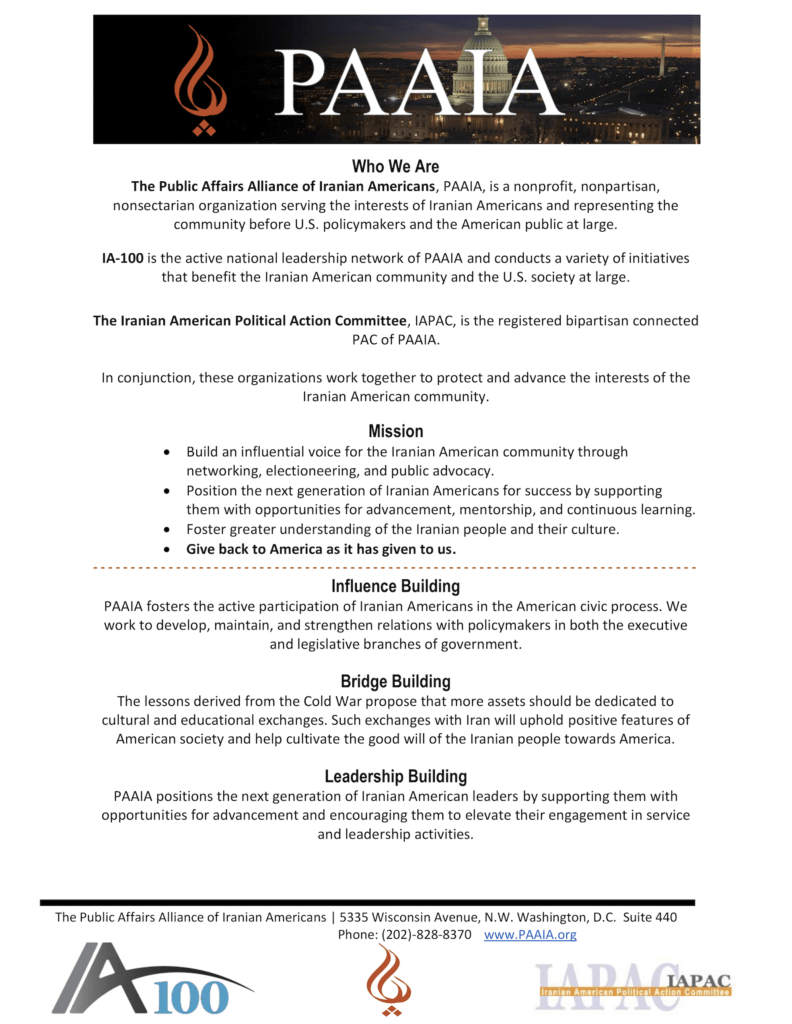 Headquartered in Washington, DC, the Public Affairs Alliance of Iranian Americans, PAAIA, Inc., is a nonprofit, nonpartisan, nonsectarian 501(c)(4) organization that serves the interests of Iranian Americans by representing the community before U.S. policymakers and the American public at large.
We work to foster greater understanding between the people of Iran and the United States, expand opportunities for the active participation of Iranian Americans in the democratic process at all levels of government and in public debate, and provide opportunities for advancement for our next generation.
IA-100, a 501(c)(3) nonprofit community organization, is a PAAIA affiliate dedicated to philanthropy, education, and public service. IA-100 conducts a variety of initiatives that benefit the Iranian American community and the U.S. society at large, including community building, youth programs, academic and professional development, information collection and dissemination, and public education and awareness.
PAAIA, Inc. and IA-100 are governed by separate boards of directors but submit to the same vision and mission and share board members and staff.
For all general purposes, the term PAAIA is used to refer to both entities without distinction.

PAAIA has a connected Political Action Committee, IAPAC, that promotes and contributes to the election of Iranian American and American candidates for political office. For more information, please visit IAPAC.
---
PAAIA's VISION:
We envision a world in which Iranian Americans actively come together as a collaborative community in service to each other and to the society at large, to change our world, and particularly the world of our children, for the better.
PAAIA's MISSION:
Encourage constructive relations and enhance mutual understanding between the peoples of the United States and Iran.
Build an influential voice for the Iranian American community through networking, electioneering, and public advocacy.
Position the next generation of Iranian Americans for success by supporting them with opportunities for advancement, mentorship, and continued learning.
Give back to America as it has given to us.
PAAIA's FOCUS:
---