2017: CHIP Fellow
Leela Najafi: Summer Internship with the Senate Committee on Homeland Security and Governmental Affairs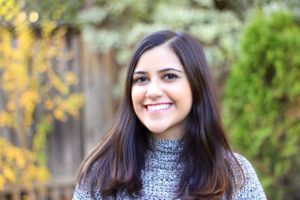 Leela Najafi  grew up in Marin County, CA. She is nineteen years old and the youngest of three sisters, Ana and Ariana. She moved to Washington, D.C. last year to pursue a degree in Communications, Legal Institutions, Economics, and Government (CLEG) at American University. During her first semester of her freshman year she interned for her representative, Congressman Jared Huffman. She really enjoyed her first internship on the Hill and decided that she would like to continue contributing to the work our legislators do, especially with the partnership of PAAIA. Now, she is beginning a digital press internship for the Senate Committee on Homeland Security and Government Affairs. She will be working directly with the committee and the office of Ranking Member Senator Claire McCaskill. She really looks forward to the internship and being a part of the CHIP program!
Click here to learn more about PAAIA's Capitol Hill Internship Program or to apply to be our next CHIP Fellow!
2015: CHIP Fellow
Aava Khajavi: Spring Internship with Congressman Mike Honda (D-CA)
Aava is a first generation Iranian-American graduating from American University this May with a BA in Psychology. She is passionate about educational equity and alleviating the social stigma tied to mental health issues. Growing up in Los Angeles, a city with an enormous Iranian American population, Aava witnessed first-hand how little Iranian Americans' interests are represented in the political arena. This reality is what inspired her to pursue a career in politics and encourage her community to have a larger voice in government.
Click here to learn more about PAAIA's Capital Hill Internship Program or to apply to be our next CHIP Fellow!
Watch an Interview with Aava about the CHIP Program:
2013: CHIP FELLOWS
Parnia Zahedi: Fall Internship with Congressman Gerry Connolly
Parnia Zahedi is a junior at Georgetown University double majoring in government and English with a minor in Spanish. On campus, she is the Vice President of the College Academic Council, on the Executive Board of the Blue and Gray Tour Guide Society, and a member of the co-ed professional business fraternity Alpha Kappa Psi. As an intern in Congressman Gerry Connolly's office, Parnia attends Congressional hearings in the House Foreign Affairs Committee, prepares memorandum from hearings and briefings, and drafts constituent correspondence. She has previously interned for the lobbying firm Manatos & Manatos as well as the Terry McAuliffe gubernatorial campaign. Upon graduation, Parnia hopes to work on Capitol Hill and attend law school to pursue a career in foreign policy.
Read what Parnia had to say about the CHIP Program here.
Marisa Vavruska: Summer Internship with the Capitol Hill office of the LNE Group
Marisa Vavruska is a rising senior at Amherst College (Amherst, MA) with a major in Law, Jurisprudence and Social Thought. Outside of academia, Marisa is member of the Amherst College rowing team and a bassoonist in the Amherst College Symphony Orchestra. In the past, she has held internships with Freedman Consulting (Washington, D.C.), a strategic consulting, communications and policy development group and the Western Reserve Historical Society (Cleveland, OH), where she served as a research assistant.
Read what Marisa had to say about the CHIP Program here.
Mitra Yazdi: Summer Internship with Senator Dianne Feistein
Mitra Yazdi is a rising junior at Yale University majoring in Ethics, Politics, and Economics with hopes of attending law school in the future.  In the past she has been involved with non-profit organizations focusing on human rights issues such as OMID Advocates for Human Rights and the Iran Human Rights Documentation Center.  In addition, she has extensive volunteer experience with organizations that promote cancer research and awareness.
Read what Mitra had to say about the CHIP Program here.
Hadi Sedigh: Spring Internship with Congresswoman Yvette Clarke
Hadi Sedigh is a recent graduate of the University of Virginia's School of Law, where he received his J.D. in 2011. He joined Representative Yvette Clarke's Washington, D.C. office as a fellow in January, where his duties include research, writing, and communicating with constituents and interest groups.  Prior to joining Representative Clarke's office, Hadi was pursuing a University of Virginia Post-Graduate Fellowship in Indianapolis, where he performed pro bono legal services for indigent Indianapolis residents. Hadi had also previously served as a law clerk in the Office of House Employment Counsel at the House of Representatives.
Read what Hadi had to say about the CHIP Program here.
Shahrooz Shahandeh: Spring Internship with Senator Charles Schumer
Shahrooz Shahandeh is a graduate student at the Edmund A. Walsh School of Foreign Service at Georgetown University, where he is pursuing a Master of Science in Foreign Service. As a legislative intern in Senator Charles Schumer's Washington, D.C. office, he focuses on foreign policy, technology and communications, and immigration reform. Before moving to D.C., Shahrooz also worked in governmental affairs in California, where he served as a local government liaison for The Energy Coalition, an environmental non-profit organization, and as Executive Assistant to the Mayor of the City of Irvine.
2012: CHIP FELLOWS
Deanna Javadi: Summer Internship with Congresswoman Donna Edwards
Deanna Javadi is a senior at Lehigh University in Bethlehem, Pennsylvania where she is studying International Relations. Deanna is actively involved in extracurricular activities and campus student groups, including Delta Gamma Fraternity, World Affairs Club, Greek Allies, and Peer Values Education.  She has also held a number of internships including the Smithsonian American Art Museum, the Public Affairs Alliance of Iranian Americans (PAAIA), and the Roberto Wirth Fund. This past spring 2012 semester, she studied abroad in Rome, Italy.
Read what Deanna had to say about the CHIP Program here.
Monna Sabouri: Summer Internship with the Democratic Congressional Campaign Committee (DCCC)
Monna Sabouri is a student at CUNY Queens College, where she is working towards a Bachelor of Arts in Political Science with honors in Business and Liberal Arts. During her time in Queens College, Monna has worked as a Legal Intern for the Honorable Justice Rosengarten in Queens County Supreme Court. She is affiliated with her father's non-profit organization, the Roodaki Foundaiton, which helps the promotion of Iranian Culture throughout the world. Monna is also a musician, getting her minors in music theory from the Aaron Copland School of Music at Queens College.
Read what Monna had to say about the CHIP Program here.