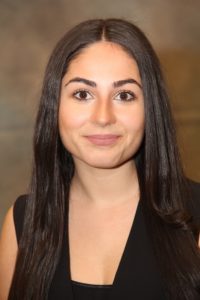 Layla Sharaf is graduated from Syracuse University's College of Arts and Sciences and Maxwell School, earning a Bachelor of Arts in International Relations with a concentration in International Security and Diplomacy in the Middle East and North Africa region. Ms. Sharaf is a former project management intern with the Executive Office of the Obama Administration's White House Information Technology team. She was also a Teaching Assistant for the Introduction to Analysis of Public Policy course at Syracuse University and an Undergraduate Assistant for the National Security Studies program. Ms. Sharaf studied abroad in Rabat, Morocco furthering her understanding of the region and the Arabic language.
Why PAAIA? As a young Iranian American, I want to be an active member of our community especially in advocacy and policy capacities. I am excited to be a part of an organization that brings together strong Iranian Americans to lead and advocate for our diaspora.
What do I hope to do here? I hope to get involved in the NexGen and Emerging Leaders programs to help strengthen and broaden the role of young Iranian Americans. PAAIA is in a unique position to help provide support and guidance for the next generation through various mentorship and fellowship programs.
---